Offers Time!
As we have been telling your during this month, with the Spanish x all card, you can get plenty of benefits in differents shops of Granada.
Today we introduce you: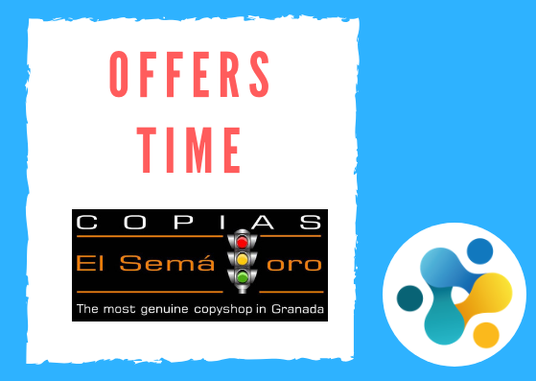 COPIAS EL SEMÁFORO
The most genuine copyshop in Granada
It's a copyshop with 20 years of experience in University projects. Its main goal is the fastest attention, proffesional and closed to their clients.

It offers White & Color copies, with good quality and better price, every kind of bookbinding, scan, design, contact card, brochure....
And also, there are a wide range of satationer's things.
SPECIAL GIFT FOR SPANISH X ALL MEMBERS
EL SEMÁFORO WILL GIVE YOU WITH YOUR SPANISH X ALL CARD: 
A complete kit for starting the course: a notebook, a pen,
a fluorescent pen and a folder.
At the end of the course they will give you a free group picture.
-- SPANISH VERSION --
Son una fotocopiadora con 20 años de experiencia en el sector
universitario. Su principal objetivo es la atención rápida,
cercana y profesional al cliente. Copias e impresiones en B/N y
COLOR de buena calidad y mejor precio, todo tipo de
encuadernaciones, escáner, diseño, tarjetas de visita, publicidad...
Y también gran surtido en material de PAPELERIA.
REGALO ESPECIAL PARA LOS MIEMBROS DE SPANISH X ALL
EL SEMÁFORO OS DARÁ PRESENTANDO VUESTRA TARJETA DE SPANISH X ALL CARD:
Kit inicio curso (libreta, bolígrafo, fosforito y carpeta botón).
Al final del curso le regalamos una foto de su grupo.