Offers Time!
Granada has plenty of monuments, cultural streets, parks, the Alhambra (obviously)... But what happen when it rains?
You have too many options:
- Movie, blanket and sofa (sound nice)
- Relaxing at home (time for yourself it's always necessary)
OR:
-Relaxing time in Arab Bath: new and different experience.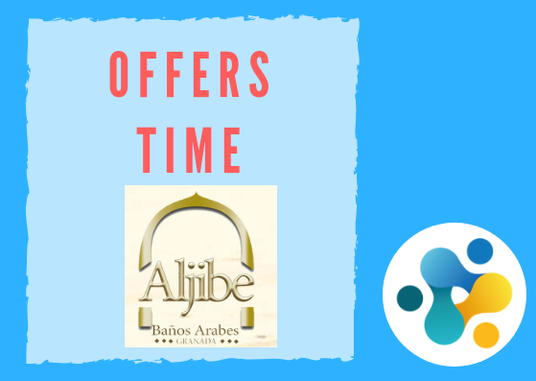 ALJIBE DE SAN MIGUEL

A millennial tradition is now at your fingertips. 
Aljibe de San Miguel brings to their customers all the healthy benefits that Arab Hamman had:
-Arab heritage where the bath is a purifying ritual for the body and spirit.
- Aljibe de San Miguel offers to their visitors a suggestive and unforgettable reencounter with the past. Go and revive it!
SERVICES
 BATH:  Take a cold & hot bath (combining the reduction of fatigue, skin & hair revival, improving the muscular pressure and also you could fell a reduction of anxiety)


Massage:

Massages are made with different essential oils in a soft area with the only noise of the water.

Aromatherapy:

It is a therapeutic treatment and it uses plants aromatic elements which makes a relaxing feeling through the skin inhalation and absorption.
SPECIAL DISCOUNT FOR SPANISH X ALL MEMBERS
Bath (only): 18,00 €

Bath + Massage: 25,00 €
Reservations:
Address: C/ San Miguel Alta 41, 18002. Granada.
Phone: 958 522 867 /  608 882 116
Email: contacto@aljibesanmiguelgranada.com
.
-- SPANISH VERSION --
Granada tiene multitud de monumentos, calles con cultura, parques, la Alhambra (obvio)... Pero, ¿qué pasa cuando llueve?
Tienes diversas opciones entre otras:
- Peli, Sofá y manta (suena bien)
- Día de relajacion en casa (siempre es necesario tiempo para uno mismo)
O:
- Relajarte en los Baños Árabes: Una experiencia nueva y diferente en tu rutina.

Siendo fiel a la saludable tradición de las termas romanas heredadas por el Hamman árabe donde el baño es un rito purificador del cuerpo y espíritu, Aljibe de San Miguel ofrece a sus visitantes un sugestivo e inolvidable reencuentro con el pasado. Ven y revívelo.

Gracias a una cuidada ambientación  y ornamentación nazarí, el baño y el buen hacer de sus masajistas, Aljibe de San Miguel puede convertirse en la mejor manera de sumergirnos en Al-Ándalus.
SERVICIOS
 BAÑO:  Sesión de baño alternando inmersión de agua fría, reduciendo la fatiga, revitalizando piel y cabello, y caliente, la cual alivia tensión muscular y disminuye la ansiedad.

Masaje:

Se realizan con diferentes aceites esenciales en un ambiente tenue con el único sonido del rumor del agua, provodando una sensación de plenitud de cuerpo y mente.

Aromaterapia:

Este tratamiento terapéutico utiliza componentes aromáticos de las plantas, los cuales, producen una sensación de relajacion y tranquilidad por inhalación y absorción a través de la piel.
DESCUENTO ESPECIAL PARA LOS MIEMBROS DE SPANISH X ALL

Baño (solo): 18,00 €

Baño + Masaje: 25,00 €
Reservas:
Dirección: C/ San Miguel Alta 41, 18002. Granada.
Teléfono: 958 522 867 /  608 882 116
Email: contacto@aljibesanmiguelgranada.com
If you haven't already got your Spanish x all card. You can order here: spanisxall.card