WHO SAYS TAPAS?
In Granada when you order a drink in a bar you automatically get a tapa (small dish of food) for free, yes we said FREE.
In this manner, usually, you can eat only tapas and get full with them (That also depends on the kind of bars you chose).
We even have a verb for that: TAPEAR.
It is common in Granada meeting with your friedns on Saturday/Sunday afternoon (13:30-14:00) for TAPEAR in different bars,, after that, drink a coffee or tea, and then.... maybe a drink or  two. That's how a #granaino spend a weekend in the city. 
We will talk in depth about TAPAS in future post, but today is OFFER DAY.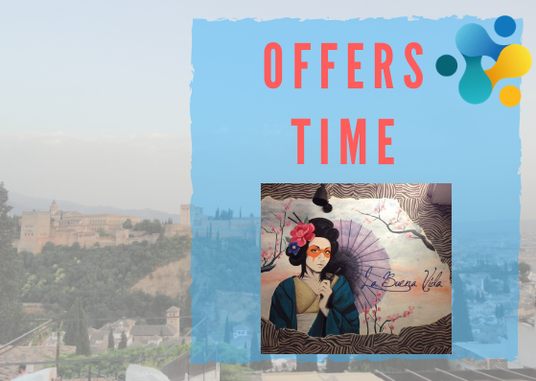 LA BUENA VIDA

Quality, Quantity and Location

Tapas could be just OK, food or excellent. In

@LABUENAVIDA  they have the best tapas service in the Albaycin.
Today's offer gives you the chance to know a bar which is:
- Good located
- Cheap
- High Quality
- Big tapas
- Friendly staff

SPECIAL DISCOUNT FOR SPANISH X ALL MEMBERS
Stamp card: When you get 5 stamps you will get a FREE beer, tinto de verano or soft drink with tapa.

Where to find it:
Address: C/Almireceros, 12.

Facebook Page: https://www.facebook.com/labuenavida.ericayleo.7
-- SPANISH VERSION --
All En Granada, cuando pides una bebida, automaticamente te dan una tapa (pequeño plato con coida) de forma gratuita, sí heos dicho GRATIS.
De esta manera, muchas veces puedes puedes comer solamente pidiendo tapas y llenarte por completo sin tener que pedir más comida.
De hecho, tenemos hasta un verbo para ello: TAPEAR.
Es común en Granada quedar con tus amigos un sábado o domingo e ir de tapas a diferentes bares, después tomar café y luego.... quizás alguna copa. Así es como un graníno pasa el día en la ciudad.
Hablaremos con más detalle de las tapas en próximos posts, pero hoy es día de oferta.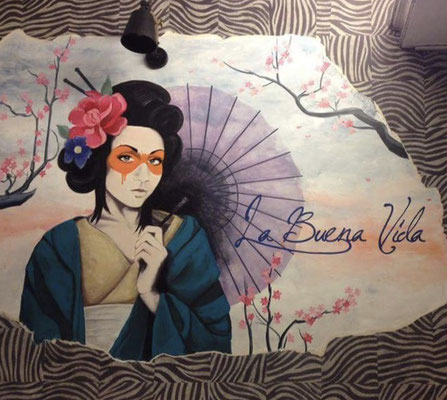 LA BUENA VIDA

Calidad, Cantidad y Ubicación

Las tapas pueden ser pasables, buenas o excelentes. En la Buena vida encontrarás el mejor servicio de tapas en las faldas del Albaycín.

La oferta de hoy os da la oportunidad de conocer un sitio que tiene:
- Buena ubicación
- Calidad en comida y servicio
- Tapas abundantes
- Camareros simpáticos.
DESCUENTO ESPECIAL SPANISH X ALL

Tajerta de Sellos: Cada 5 sellos, conseguiréis una cerveza, tinto de verano o refresco + TAPA gratis.

Dónde se encuentra:
Dirección: C/ Almireros 12.

Página de Facebook: https://www.facebook.com/labuenavida.ericayleo.7
If you haven't already got your Spanish x all card. You can order here: spanisxall.card