It's time to take care
Even if you are studying, working or travelling, there are so many thing that could produce you some stress:
- Discover a new city
- New routine
- New language
- Meet friends
- Flamenco lessons
- Parties
- Tapas
- Tour guides
To sum up it's a new experience and we encourage you to feel everything of it. 
But sometimes it's necessaty to take a break of everything and spend a day doing nothing or take the day for yourself.
Today we propouse you a esthetic centre where you could receive every treatment for your skin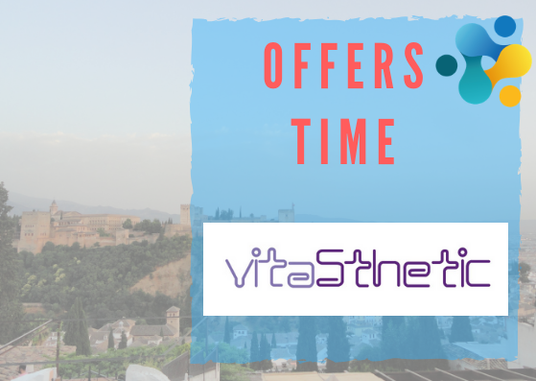 VITASTHETIC

Health and well-being with high quality services.

In @VITASTHETIC  they have been more than 8 years doing Esthetic Medical treatments, offering an excellent treat to their clients. 
They count with a wide variety of treatments such as: Laser depilation, cavitation, peeling..., among others.
Feel free to go there and you could have a personalised diagnostic of your skin.
SPECIAL DISCOUNT FOR SPANISH X ALL MEMBERS
20% off in every treatment.

Gift: UV Protective cream (50+). Aloe vera gel or a Skin Analysis.
Where to find it:
Address: Paseo del Violón S/N.

Phone:  958 99 66 53
Website: http://vitasthetic.es/
-- SPANISH VERSION --
Tanto si estás estudiando, trabajando o de viaje, hay muchas cosas que te pueden estresar:

- Descubrir una nueva ciudad
-Nueva rutina

- Nuevo idioma
- Hacer amigos
- Clases de flamenco
- Fiestas
- Tapas
- Guías turísitcas.
Resumiendo, es una nueva experiencia, la cual te animamos a aprovechar al máximo.
Pero, a veces es neceario tomarse un descanso de todo y dedicarse un día a no hacer nada y tomarse el día libre para uno mismo.
Hoy os proponeos un centro de tratamiento estéticos, donde podrás recibir cada tratamiento específico para tu piel.    

VITASTHETIC

Salud y bienestar con servicios de alta calidad. 

En @VITASTHETIC  llevan más de 8 años realizando tratamientos Medico estéticos, ofreciaendo un excelente trato a su clientes.

Cuentan con una gran variedad de tratamientos tales como: Depilación láser, Cavitación, Peeling...., entre otros.

Ve a realízate un diagnóstico personalizado de tu piel sin ningún compromiso.

DESCUENTO ESPECIAL SPANISH X ALL

20% de descuento en cada tratamiento.

Regalo: Crema fotoprotectora, Gel de aloe vera o un estudio de la piel.

Dónde se encuentra:
Dirección: Paseo del Violón S/N.

Teléfono:  958 99 66 53
Página Web: http://vitasthetic.es/
If you haven't already got your Spanish x all card. You can order here: spanisxall.card