This week we aim you to travel, travel and ... TRAVEL
Granada offers plenty of plans, and things to do, also its towns and cities nearby.

However, once you are in Granada, you can visit other places in Andausia and Spain. Why not?
There are so many way to travel:
- With an organised group trip
- Organised by your own
- Personalised trip for you and your friends
You could enjoy all of them, depending the kind of trip do you want.
That's why we bring you today a special trip agency, it's specialised in make the perfect trip you want,  because everything is personalised for you.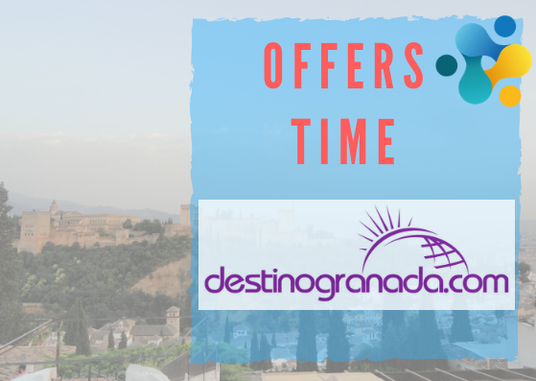 DESTINO GRANADA

The perfect trip experience

They are avaiable to prepare any kind of trip. In that way ther are specialised in:

- Alhamabra Tours
- Tourist apartments
- Andalucia routes
- Multiadventure activities
- Visits and programmes for every kind of groups
- Weekend trips
@destinogranada  is waiting for your proposition!

SPECIAL DISCOUNT FOR SPANISH X ALL MEMBERS
5% off in tourist apartments

5% off in Alhambra and Generalife tours
Where to find it:
Address: Plaza S. Agustín 3, Ed. Caza Zayas - Of. C1.5
Phone:  958 25 82 16
WhatsApp:  +34 606 28 64 70
Website: http://www.gruposyviajes.com/destinogranada/
-- SPANISH VERSION --
Granada ofrece gran cantidad de planes y cosas que hacer, pero también tiene pueblos y ciudades cerca.

No obstante, una vez que estás en Granada, puedes visitar otros lugares en Andalucía y en el resto de España. ¿Por qué no?

Hay muchas maneras de viajar:
- Viajes organizados para grupos
- Organizarlo por tu cuenta
- Viaje personalizado para ti y tus amigos.

Puedes disfrutar de un viaje de diferents formas, dependiendo del tipo de viaje que quieras.
Es por esto que te esta semana te traemos una agencia muy especial e viajes, que está especializada en preaparar el viaje perfecto, porque todo estará diseñado de forma personalizada para ti.

DESTINO GRANADA

La experiencia perfecta para tu viaje.

Ellos están dispuetos para preparar cualquier tipo de viaje. Entre otros están especializados en:

- Rutas por la Alhamabra
- Apartamentos turísticos
- Rutas por Andalucía
- Actividades multiaventura
- Visitas y programasa pra cada tipo de grupos
- Viajes de fin de semana
@destinogranada  está esperando tu propuesta.

DESCUENTO ESPECIAL SPANISH X ALL

5% de descuento en Apartamentos turísticos

5% de descuento en tours por la Alhambra y Generalife
Dónde se encuentra:
Dirección: Plaza S. Agustín 3, Ed. Caza Zayas - Of. C1.5
Teléfono: 958 25 82 16
WhatsApp:  +34 606 28 64 70
Página Web: http://www.gruposyviajes.com/destinogranada/
If you haven't already got your Spanish x all card. You can order here: spanisxall.card