A new way of learning Spanish!
Spanish for all offers a unique kind of lessons. WHY?

It creates personalised lessons adapted to you and your needs. AND THERE IS MORE!! 
You could discover the city at the same time you improve the Spanish.
Our lessons are for a maximum of 3 people and each lesson is in a different location within Granada:
- parks,
- bars
-cafes
- On a walk. You will discover the hidden places and the magic of Granada while you are learning
Our teachers will solve all your doubts not only about the Spanish language, also about lifestyle in Spain.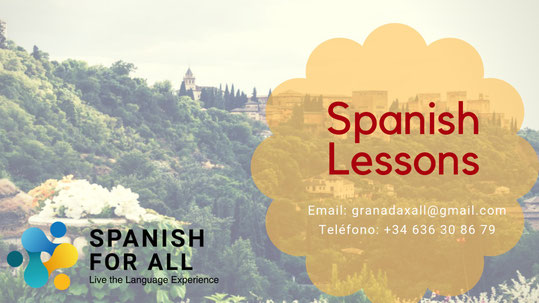 SPANISH LESSONS

Enjoy the lesson

We are Granada citicens who love this city and also we know every historic corner, and best places to go .
There are different kind of offers, depending on the number of lessons you need.
Contact us fore more information.
 
DON'T MISS IT

You will receive a Special Welcome Pack

You will also get the Spanish x all member card (including all the discounts and offers)

Contact info:

WhatsApp:  (+34) 636 30 86 79
Email: granadaxall@gmail.com
Website: https://www.spanishxall.com/
-- SPANISH VERSION --
Spanish for all ofrece  una forma diferente de dar clases. ¿POR QUÉ?
Creamos clases personalizadas para ti y adaptada a tus necesidades PERO esto no es lo único.
Podrás descubrir la ciudad a la vez que mejoras tu español.
Nuestras lecciones tienen un máximo de 3 estudiantes y cada clase se da en un sitio diferente de Granada:
- parques
- bares
-cafeterías
- Dando un paseo...
De esta forma, también podrás visitar los lugares más pintorescos de esta mágica ciudad.
Nuestros profesores resolverán todas tus dudas, no solamente con temas relacionados con el idioma, sino también con la vida en España.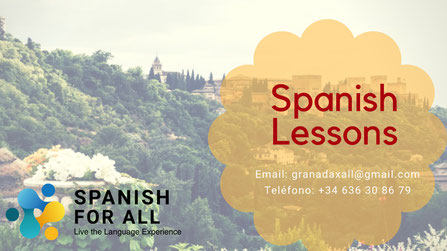 CLASES DE ESPAÑOL

Disfruta la lección.

Somos profesores de Granada que amamos esta ciudad y conocemos a la perfección cada rincón, historia y mejores lugares a los que ir en Granada.

Hay diferentes tipos de ofertas, dependiendo del número de clases que quieras dar.

Contacta con nosotros para más información.

¡NO TE LO PIERDAS!

Recibirás un Welcome Pack especial

 Además, conseguirás la tarjeta Spanish x all member card (incluyendo todos los descuentos y ofertas)

Contacto:

WhatsApp:  (+34) 636 30 86 79
Email: granadaxall@gmail.com
Web: https://www.spanishxall.com/
If you haven't already got your Spanish x all card. You can order here: spanisxall.card