Don't lose money in the currency exchange.
Some of you are people from countries with different coin that is not the €.
If you need to turn your coin into another one, Alhambra Viajes is the best option.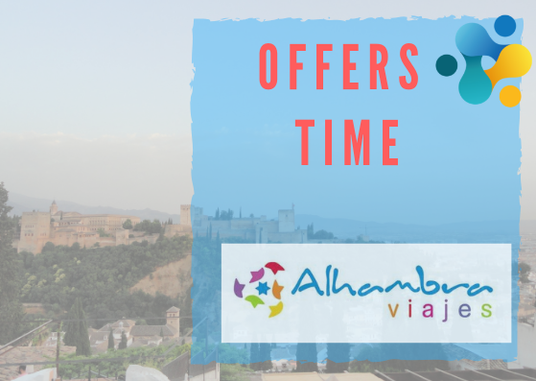 ALHAMBRA VIAJES 
Currency exchange without commissions and trips

In a perfect location, @Alhambraviajes offers you the cheapest option for currency exchange
- They always show  final prices 
- Commissions free
- They guarantee you the best option for your money. 
Alhambra viajes is also a travel agency which has plenty of trips, destinations, routes... It prepares everything you need for your perfect trip. 
SPECIAL DISCOUNT FOR SPANISH X ALL MEMBERS
There are different kind of offers depending of the service
Ask our team for more info.  
Where to find it:
Address: C/ Reyes Católicos, 47-49
Phone:  958 21 54 67
Website: https://alhambraviajes.grupoairmet.com/ms2/
-- SPANISH VERSION --
Muchos de vosotros sois de países cuya moneda es diferente al €.

Si necesitas cambiar divisas Alhambra Viajes  es la mejor opción. 
ALHAMBRA VIAJES 

Cambio de divisa sin comisión y viajes.

Con una ubicación privilegiada, @Alhambraviajes  ofrece la opción más barata para el cambio de moneda:
- Siempre ofrecen el precio final 
- Sin comisiones
- Garantizan la mejor opción para tu dinero
Alhambra viajes es también una agencia de viajes que cuenta con una gran variedad de destinos y rutas. 
Organizan todo lo que necesitas para que tu viaje sea perfecto. 
DESCUENTO ESPECIAL SPANISH X ALL

Existen diferentes tipos de ofertas
Pregúntanos para más información
Dónde se encuentra:
Dirección: C/ Reyes Católicos, 47-49
Teléfono: 958 21 54 67
Página Web:  https://alhambraviajes.grupoairmet.com/ms2/
If you haven't already got your Spanish x all card. You can order here: spanisxall.card